On a two-CD set!
This format allows you to howl at Terry's hilarious celebrity voices he honed as a stand-up comic/impressionist on COMEDY CENTRAL and at THE IMPROV.

Click here to sample (2mb MP3)
You'll hear "Jack Nicholson" and "Martha Stewart" in a domestic quarrel...
(Voices by Terry Braverman and Martha Lambert)

Along with other character types, sound effects, and music to enliven story lines and schticks, this audio version of the book will give you a more complete experience of Terry Braverman's talent with additional tips to lighten up! Have a pen and pad ready to write down key reminders while listening to your CDs!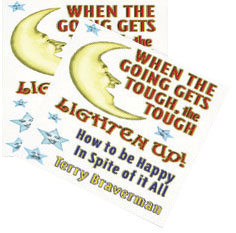 ORDER NOW (via PayPal)
$19.95 - TWO-CD SET