QUOTE OF THE WEEK: "You know, a cell phone's like a guy; if you don't plug him in every night, charge him good, you got nothing at all." – Catherine Coulter

ATTENTION iPHANS

If you didn't preorder the iPhone 6 from Apple, there is an alternative for those of proper means. Falcon, an irrationally high-end retailer with an affinity for authentic glitter, has made the Bespoke and SuperNova collections available for preorder, starting at a paltry $1,650,000 for a platinum black diamond-encrusted iPhone 6.


If the basic model is too generic for you, the prices keep escalating until you reach the pink diamond iPhone 6, costing $48.5 million apiece. Getting an iPhone 6 ahead of your friends and associates would be impressive, but an iPhone worth more than Dr. Dre's recently purchased home of $35 million is guaranteed to leave everyone breathless. And no worries about getting the most bang for your buck, these are the 5.5-inch 128GB iPhone 6 Plus models. They even come unlocked.


In the meantime, why not begin accessorizing your petrifyingly pricey smartphone by picking up some 24K solid gold EarPods from the Falcon store? $300,000 is like bus fare.
2014 DIGITAL TRENDS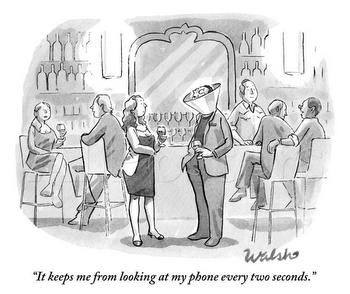 The 2014 Digital Trends report just released from E-consultancy and Adobe is based on a global survey of more than 2,500 marketers and Internet professionals carried out at the end of 2013. The report seeks to distill which areas companies are prioritizing in 2014. Customer experience, mobile and content marketing emerge as major imperatives, but a significant number of businesses are homing in on other areas such as personalization, social, data and multichannel campaign management.


Since last year, it is clear that companies are attaching increased importance to understanding customer behavior on mobile devices, and also prioritizing the use of data from different channels to optimize the overall experience.


Respondents were divided into "Client Side Professionals" and "Supply Side Professionals," then asked to identify the 'single most exciting opportunity for 2014'. These are the top four:

CUSTOMER EXPERIENCE
Client Side: 20%
Supply Side: 18%


MOBILE
Client Side: 18%
Supply Side: 21%


CONTENT MARKETING
Client SIde: 15%
Supply Side: 13%


MULTI-CHANNEL CAMPAIGN MANAGEMENT
Client Side: 10%
Supply Side: 12%


Researchers concluded that organizations need to ensure they have the proper data, technology and culture to implement as the basis for a satisfying customer experience, with a focus on multichannel marketing and campaign management also needed to drive a successful approach.


For many organizations, mobile continues to be the adhesive binding together the customer experience.


A great opportunity exists to integrate the physical and digital worlds, especially in the world of retail where brands, for example, can target customers based on location and interact with them while in store. Wearable technology will only accelerate this trend.


In answer to the question, "Which three digital related areas are the top priorities for your organization (or for your clients) in 2014?" results are as follows:


CONTENT MARKETING
Client Side: 36%
Supply Side: 35%


SOCIAL MEDIA
Client Side: 36%
Supply Side: 34%


TARGETING/PERSONALIZATION
Client Side: 32%
Supply Side: 29%


CONVERSION RATE
Client Side: 31%
Supply Side: 25%


Worth noting is that the top four priorities are precisely ordered the same as the survey last year, respectively, content marketing, social media engagement, targeting/personalization, and optimizing conversion rates. It is apparent that marketers and digital professionals are clear on what the priorities are, and this has not changed markedly in the last year.


For the complete, 34 page copy of the report, "Quarterly Digital Intelligence Briefing: 2014 Digital Trends" go to: http://bit.ly/2014digital-trends
© 2014 Mental Floss Publications
All rights reserved.