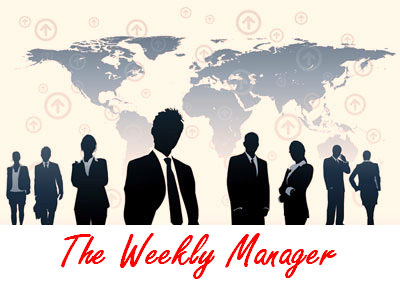 Inspired ideas to manage your professional and personal life

Savvy tips on global destinations - culture, investment, and retirement

Plus weekly prime rib ticklers!

The Weekly Manager is created by Mental Floss Publications, exclusively for clientele in Terry Braverman's professional speaking/training and publishing business. We have a current readership of 32,728 who are primarily executives, managers, and meeting planners.

We do not accept advertising in the publication. The Weekly Manager serves as a value-added benefit for our clientele, and maintains a staunchly independent perspective in its editorial content.

Demographics

Age range: 40 – 55

Average income estimate: $95,000

Gender %: 52% female, 48% male

Subscriber % who open the publication regularly: 85%

Subscriber Location: 47% in the Southern California corporate market, 28% throughout the USA, 25% international




If you missed any of this year's issues and would like to receive them, contact: This email address is being protected from spambots. You need JavaScript enabled to view it.




We've promoted concerts, festivals, films, theatrical events, charity events, art gallery receptions, and new store openings. If you're a publicist or event promoter, please e-mail us: This email address is being protected from spambots. You need JavaScript enabled to view it.




An average of three times a year we publish a special travel edition. We work with tourism bureaus, convention and visitor bureaus, hotels, resorts, real estate developers, and airlines to promote destinations, meetings/conference facilities, tourist attractions, festivals, and special events that are of interest to our clientele. Many of our readers make decisions for business travel within their companies. If you're in the travel/hospitality/events field and would like us to help promote your service in our feature stories, we'll send you a sample copy of our publication for review. Send request to: This email address is being protected from spambots. You need JavaScript enabled to view it..


Here's a partial list of organizations representing destinations we've promoted in exchange for airfare, tours, accommodations, and/or cultural attractions: